Published on Feb 04, 2020
Last update: Feb 27, 2020
Click here for the Chinese Version of this Practical Guide.
If you have any comment or you want to share your best-practices, please contact:
Gregory Louvel g.louvel@leaf-legal.com
Bruno Grangier b.grangier@leaf-legal.com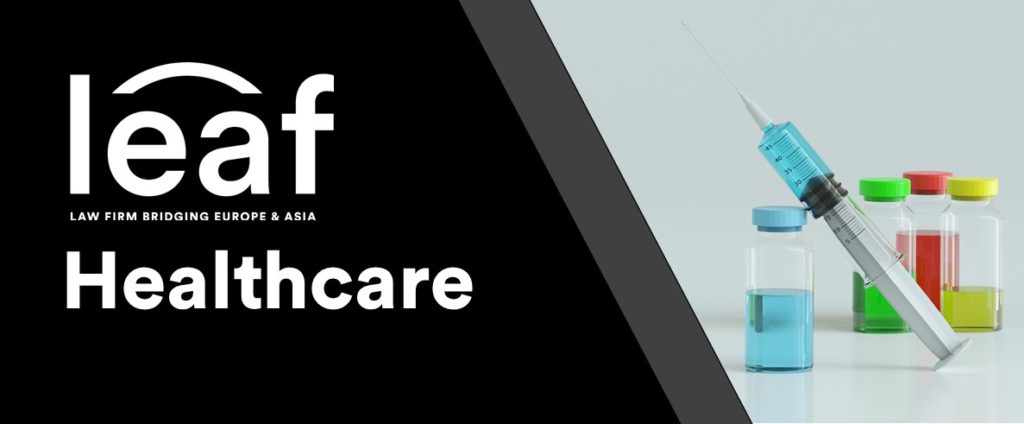 The purpose of this Practical Guide by Leaf is to share with business leaders some guidance and best-practices on how to reduce the impact of the COVID-19 crisis in China on their operations and mitigate disruptions.
Step 1: Design Business Continuity Plan
Make sure you have a business continuity plan to ensure the safety of employees and normal operations to the extent possible for an undetermined period of time (not necessarily limited to February 9, 2020).
Employees may need to access work premises for various reasons during lock down, however crowd aggregation should be avoided. The following plan may be implemented: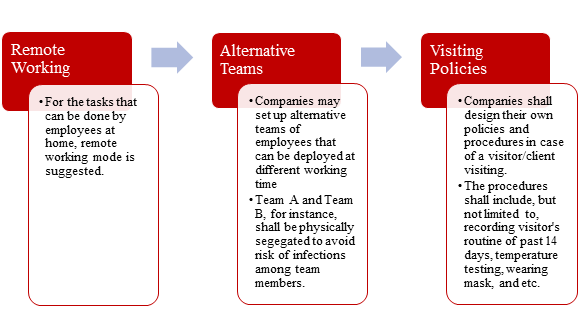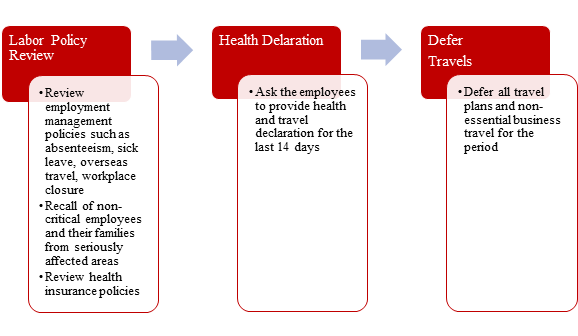 Step 2: Appoint a Flu Manager to Monitor the Conditions of Employees and Streamline Communication on the COVID-19
Appoint a flu manager (either in or out of the HR team), to closely monitor employees' health conditions and ensure that employees are familiar with the business continuity plan.
[Updated February 11, 2020] This measure is taken also to mitigate the liability of a legal representative and/or person in charge who shall take measures to prevent the potential risks. Please note that Shanghai regulations issued on February 7, 2020 mentioned that criminal sanctions and bad social credit report will be encountered by any person in breach or obligation to declare their potential visit in key areas, try to escape quarantine.
The responsibilities of the flu manager may include the following matters:
closely monitor the health conditions of all the employees;
keep close contact with local authorities through the 12345-hotline made available (the "Hotline") – each major city has established a New Pneumonia Epidemic Prevention Headquarters, that can be reached through the Hotline (A shanghai: (http://rsj.sh.gov.cn) ou Hotline 12333 du Bureau des Ressources Humaines et de la sécurité sociale de Shanghai) ;
educate employees on the latest available information on the COVID-19, including preventative measures, such as how COVID-19 is transmitted, efficient way to wear masks and wash hands;
keep record of the updated contact information for each employee;
ensure employees who have traveled to affected areas are quarantined for a sufficient number of days in accordance with local regulations (7 days to 14 days);
ensure that working premises have adequate supplies of tissue papers/hand towels, disinfectants and masks;
ensure that working premise have regular disinfecting;
identify hospitals where employees with fever may be admitted to.
Step 3: Design Contingency Plan in Case of Suspicion/Confirmation of COVID-19
Make sure you have a contingency plan in case of any workers is actually sick or suspected to be contaminated.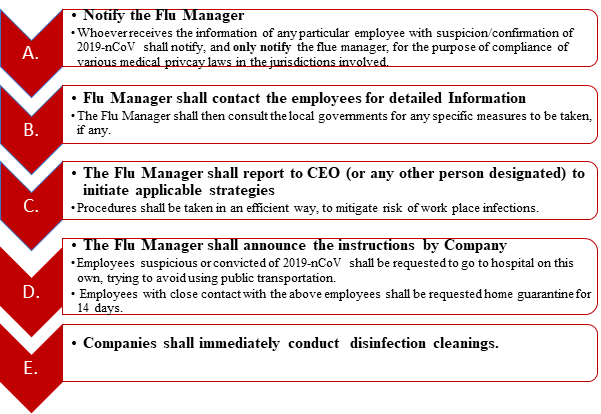 If an employee reports that she/he heard that another employee is contaminated with the COVID-19, or if an employee learns of or overhears other employees talking about colleagues having the COVID-19, companies may consider the following responses: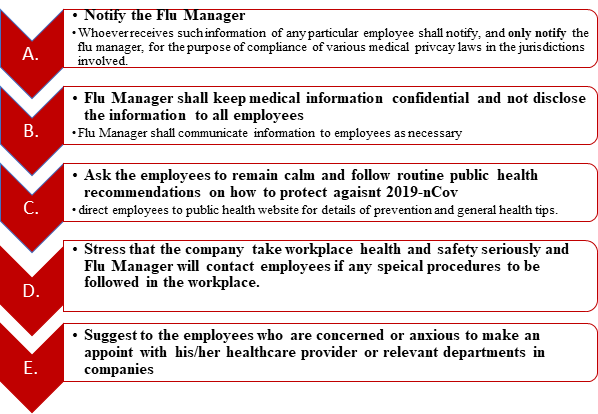 In case where any employee or his/her family has symptoms but refuses to go to the hospital, the Flu Manager shall notify the governmental authorities through the Hotline and forbid such employees from entering working premises.
[Updated on February 17, 2020] Please note that an employer has some obligations (i) to report promptly to the COVID-19 control authorities if a patient or suspected patient is found, (ii) to adopt effective measures to protect employees in contact with pathogens of COVID-19 and (iii) to cooperate with the authorities in case of control.
Step 4: Closely Monitor applicable Regulations to Determine the Working Time and Payment of staff requirements
One key element of the success of any contingency plan in a fast-moving environment, is to closely communicate with local authorities to ensure the company is informed of latest updates and remains in compliance with applicable measures.
Below is a summary of the different measures from some selected provinces/cities regarding the arrangement of working time from February 2 to February 9.
Extension of National Holidays & Rest days: National holidays have been extended to February 2, 2020. During this extension, employees are entitled to three times their salary.
Some provinces or municipalities have decided to extend the number of rest days. As far as payment of salary, a certain number of uncertainties remain. There are some discrepancies between different local regulations. For instance, Hubei province extends the holiday to February 13, 2020, stating that it includes any person who visited Hubei during this time. How companies shall treat their employees currently in Hubei is somehow unclear.
The table below is a tentative summary of the different situations we have seen.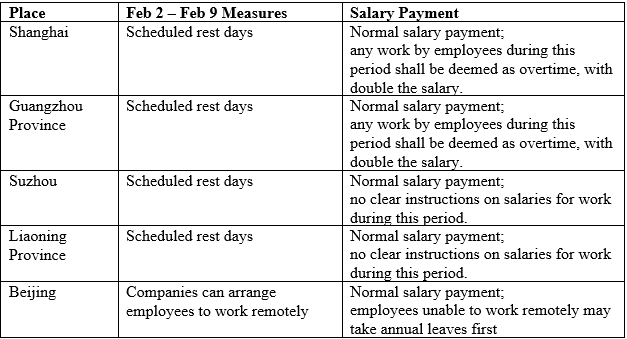 Companies shall also take this opportunity to review and update their labor contracts and employee handbooks on issues such as absenteeism, sick leave, overseas travel, workplace closure and recall of non-critical employees and their families.
At this stage, the current regulations remain ambiguous on many issues, such as whether the different located offices shall apply different local regulations or are subject to those where the company is registered and whether the governmental authorities, such as State Administration for Market Regulation ("SAMR") and MOFCOM are open for on-site filing. Companies shall closely monitor the local regulations to better design its business continuity plans.
Quarantine: many companies have mentioned questions on the obligation to comply with a quarantine or not. This obligation depends on the local regulations, that may differ from a district to another district.
Many companies have questions on the obligation to comply with a quarantine obligation or not. This obligation depends on the local regulations, that may differ from a region to another region.
[Updated on February 11, 2020] For example in Shanghai, a compulsory 14-day quarantine has been requested for persons from Hubei "and other key regions". The terms "other key regions" are not yet defined. The Party's Committee of Putuo District (Shanghai Municipality) has issued a notice asking Public administrations and State-owned companies to impose to their employees a 14-day quarantine for any person from Hubei and a list of regions clearly defined. According to some local regulations, we understand that the region with more than 100 infected patients are concerned such as Hubei, Guangdong, Zhjiang, Henan, Hunan, Chongqing, Anhui, Sichuan, Jiangxi. It is generally recommended (not an obligation) to comply with a self-quarantine period of 7 days.
[Updated on February 16, 2020] everyone returning to Beijing from the 15th onward will be expected to observe a 14-day quarantine at home or at an area designated for obervation. Breach of self-imposed quarantine will trigger sanctions althought their nature has yet to be specified. From the press, we have observed 5-day prison time in some cases.
[Updated on February 10, 2020] In practice, we noted Shanghai regulations asking people to register with their neighbourhood committees when they come back to Shanghai. Employees resuming work may be subject to a 14-day isolation period by each employee, whether he or she comes from Hubei or not. In some cases, some local building management have prohibited employees from entering into office on February 10 and have decided to grant access subject to filing with local authorities. In some cases, filing operations will be completed within a few days, which has postoponed the resumption of work for some companies. In practice, the requirements may change from district to district and from building to building. Employees and employers have to comply with these restrictions.
In any case, companies shall make cautious decisions in making the employment management policies. Companies failing to comply with the local regulations or forcing their employees to breach quarantine to work may be directed by the local authorities (either SAMR or Labor Bureau) to suspend their business, and the legal representative and the person in charge may be subject to administrative detention under serious circumstances.
Reduction of staff. In many occasions, companies are tempted to let go staff in order to lower the financial pressure or survive.
Companies are not recommended to take any of the following actions without proper negotiation with the employees:
[Updated on February 17, 2020] Companies shall not terminate labor contract or deduct money of employees because he/she is unable to return to work on time for reason attributable to the authorities or government-imposed decisions (according to the Notice on Properly Handling Labor Relationships during the Prevention and Control of Pneumonia Epidemic of New Coronavirus Infection dated January 24, 2020);
Companies shall not terminate the labor contract of an employee who is infected by the virus or suspected patient;
Companies shall pay salaries during the treatment period, the medical observation period and/or the quarantine period;
Companies shall not force the employees to show up in the working premise when he/she is still in quarantine days;
Companies may consult with each of the employees about taking annual leave during the infection period.
Although companies may request the employees to work remotely, although companies shall not penalize the employees who did not bring a laptop to work during the holidays so that they are unable to work remotely, unless this is mandated by company policy;
[Updated on February 17, 2020] In Beijing, if the administrative order to stop activities is longer that one salary cycle, the company may reduce the salary to 70% of 2200 RMB. In Shanghai, if the company has to stop activities, the employer may reduce salaries to the minimum salary of Shanghai (2480 RMB) only subject to negotiation.
Step 5: Assess Your Contractual Obligations
In a business context, carrying out an assessment of outstanding contractual liabilities and impact of the COVID-19 on such liabilities or on those of counterparts shall also be considered to protect the business.
Many industries are affected by the COVID-19 and the performance of contracts might be impacted. Companies shall review their commercial contracts with their partners, suppliers and important customers and negotiate with them if any termination/amendments are necessary.
Under Chinese Civil law and Contract Law, Force Majeure is defined as "the unpredictable, unavoidable and unconquerable objective situation". Legally speaking, such COVID-19 may be considered as a Force Majeure event in China.
Companies shall further (i) check the definition of Force Majeure in the contracts as whether it includes infectious diseases; (ii) monitor the Chinese Supreme Court decisions regarding Force Majeure, in particular cases during the SARS periods in 2003; and (iii) if a dispute is sent to the court, the court shall make decisions based on the case-by-case analysis on whether there is a causal link between the COVID-19 and the failure of performance.
Companies shall also review the material adverse effect clauses ("MAE") in their contracts to check the influence of the COVID-19 on their contracts and initiate amendments with the relevant parties if necessary. As MAE is not defined in Chinese laws, it solely relies on the contractual drafting. Companies may also consider to update the MAE clauses for any on-going transactions.
Companies shall also review the provisions regarding change of economic conditions in their contracts, and to assess whether such provisions are enforceable in case of COVID-19, on a case-by-case scenario.
To know more, please refer to our article "Can you apply Hardship or Force Majeure during the Coronavirus crisis?"
Step 6. Boost your Corporate Social Responsibility Credentials ; avoid penalties
Engage with local hospitals and health organization to check if you can help in case of supply shortage and operational difficulties, not limited to the medical supply.
[Updated on February 16, 2020] More and more business leaders have asked us about their obligations and liabilities in the context of the COVID-A9 prevention. Accordingly, we would like to draw your attention on the Notice issued by Supreme People's Court, Supreme People's Procuratorate, Ministry of Public Security and Ministry of Justice on February 10, 2020 which clearly identified some actions as involving criminal sanctions and impact on social credit ranking.
If the company is convicted conducting the crime, the company will normally be subject to administrative punishment, such as fines, suspension/termination of operation and so on.
The person in charge (based on experience, it always refer to legal representative as well as any employee in charge of that part of operations) will be criminally punished with sentence.
Recently, press articles have shown that these regulations are applied. Specific situations related to COVID-19 have triggered company and personal liabilities according to PRC Criminal Law. To access the list of Crimes listed by PRC Criminal Law, please check Appendix 4 below.
To know more about the personal liability of executives in China, please read our article here.
Step 7: Monitor public subsidies
During SARS in 2002-2004, China has launched several programs to help the economy. The Chinese government has announced that it will pump a net 150 billion RMB into its economy to protect it from the impact of the new virus. A close monitoring of the decisions shall be put in place to check whether companies are eligible to such assistance plan.
We have added in Appendix 1 and Appendix 2 information related to the main regulations newly published in Shanghai and Beijing since February 4, 2020 (please note that this is not exhaustive).
Conclusion
China is at key stage to prevent the spread of COVID-19 and companies are playing an essential role within it as returning to work may bring forth the next outbreak. It is essential that companies shall seize a balance between ensuring the normal operations of the business and protecting the safety of their employees. In addition to the various mechanisms to ensure the physical safety of this employees, companies shall also take smooth measures to give maximum comfort to anxious employees although the storm will eventually pass by and the show must go on.
Newly published local regulations are showing the determination of the authorities to ensure the safety of employees through control and to reduce the impact on the economy through different subsidies and financial tools. Implementing rules shall be verified in the coming days.
[Updated February 11, 2020] As of to date, the State Council, the Ministry of Finance, the Ministry of Commerce, the General Administration for Tax, Customs and numerous municipalities, autonomous regions, cities and other administrations have issued policies to reduce financing costs, to reduce tax impacts, to reduce rent impacts, provide deferred tax and social charges deferred payments.]
[Updated February 16, 2020] More insights from European Players here.
——————-
Appendices
Appendix 1 – National level – since February 19, 2020
[Updated February 19, 2020] A new regulation has been issued by the State Council to help companies. This new regulation shall be applicable on the national level.
Temporally reducing the employer's part of enterprise pension, unemployment, work-related injury insurance contribution:

Small and medium-sized enterprises shall be exempted from these contributions from February to June 2020. This applies nationwide (except for those in Hubei province which have a specific status);
Large enterprises shall be exempted of 50% of these contributions from February to April 2020. This applies nationwide (except for those in Hubei province which have a specific status);
For all entreprises in Hubei Province, such contributions may be exempted from February to June 2020.

Housing Fund: by the end of June, all enterprises may apply for a deferred payment of housing fund, during which time employees who cannot repay the housing fund loans on schedule due to the impact of the outbreak shall not be deemed as overdue.
Other general principles such as (i) the 6 principles to manage the resumption of work and prevention of the disease and (ii) rules to guarantee the basic livelihood of unemployed persons have been issued and are expected to be specified soon.
Local regulations are expected to be issued soon.
[Updated February 20, 2020] [Social Security] The Ministry of Human Resource and Social Security, the Ministry of Finance and the State Taxation Administration have issued a new notice to provide further details on periodically reducing the employer's part of basic pension insurance, unemployment insurance, and work injury insurance ("Three Social Securities"). The main points are summarized as follows:
Periodical reduction of the Three Social Securities:
| | | | |
| --- | --- | --- | --- |
| Types & Region of Enterprises | Enterprises nationwide micro, small and medium-sized enterprises* | Enterprises nationwide large enterprises in nationwide (excluding the state agents and institutions) | Enterprises in Hubei province |
| Policy (with effect from February 2020) | May be exempted from the Three Social Securities, based on the epidemic impact and the fund threshold. | May be exempted from 50% of the Three Social Securities. | All types of social security participating organizations (excluding the sate agents and institutions) may be exempted from the Three Social Securities. |
| Exemption period | ot exceed 5 months | not exceed 3 months | not exceed 5 months |
*Note: The standardization of micro, small and medium-sized enterprises may be determined according to the notice issued by the MIIT ("Gong Xin Bu Lian Qi Ye [2011] No. 300") and other relevant regulations.
Deferred contribution of social security premiums.
Enterprises which encounter serious difficulties in their production and business operation due to the epidemic may apply for deferring contribution of social security premiums, in principle, the deferred period shall not exceed 6 months, and late payment fine shall be waived for the deferred period.
[Updated February 21, 2020] [Social Security] The National Healthcare Security Administration, the Ministry of Finance and the State Taxation Administration have issued a new notice on periodically reducing employee's basic medical treatment insurance premium.
Since February 2020, the employer's part of basic medical treatment insurance premium may be half paid. The reduction period shall not exceed 5 months.
Such notice also provides the different principles applied for reducing payment and for deferred payment.
[Updated February 21, 2020] [Housing Fund] The Ministry of Housing and Urban-rural Development, the Ministry of Finance and the PBOC have issued the notice on housing fund as follows:
Enterprises affected by the epidemic may apply for the deferred payment of the housing fund before June 30, 2020 in accordance with the provisions. The payment time during the deferred payment period shall be calculated continuously, which shall not affect the normal withdrawal and application of the housing fund loan by employees.
Employees affected by the epidemic who cannot normally repay the housing fund loans before June 30, 2020 shall not be treated as overdue. For employees who have bigger pressure to pay their rent, such employee may reasonably raise the drawing amount and flexibly arrange the drawing time.
In the areas where the epidemic of COVID-19 is confirmed to be severe or relatively severe, enterprises may suspend the payment of the housing fund before June 30, 2020 provided full consultation with the employees. If the employer continues to pay, the rate shall be determined independently; if the employer suspends the payment, the payment time shall be calculated continuously, and shall not affect employees to draw housing fund as normal and apply for housing fund loan.
[Updated February 25, 2020] The State Council's executive meeting chaired by Premier Li Keqiang on February 25, 2020 have decided on mainly three points as follows:
Stabilize the employment

through taking care of the employment of graduates and peasant-worker and relevant policies;

Strengthen financing support for SMEs to resume work

.
For eligible micro, small and medium-sized firms, including household businesses, experiencing temporary difficulty with liquidity, financial institutions will be encouraged to provisionally defer their principal loan repayments. Their interest payments can be deferred to June 30, with penalty interest payments exempted. This policy will apply to all types of businesses in Hubei province.
The re-lending rate targeting rural areas, agriculture, farmers and smaller businesses will be lowered by 25 basis points to 2.5%.
Before the end of June, local banks (namely, urban and rural commercial banks and rural credit cooperatives) that issue new inclusive loans to micro and small businesses at a rate no higher than 50 basis points above the loan prime rate (LPR) will be able to apply for re-lending funds to the full amount of the loan extended.
It was decided at the meeting that national commercial banks will be encouraged to offer more loans to micro and small enterprises, and work toward meaningfully lowering the lending rates from last year's level.
State-owned large banks are urged to increase the balance of their inclusive loans to micro and small businesses by no less than 30% year-on-year in the first half of this year. Policy banks will add RMB 350 billion special credit quota to be issued to micro, small and medium-sized enterprises at preferential rates.
Further regulations have been issued to support household business to resume work. These regulations are not applicable to JVs or WFOEs.
——————-
Appendix 2 – Shanghai Municipality – updated since February 4, 2020
[Update February 5, 2020] Shanghai Municipality. On February 3, 2020, several competent authorities in Shanghai jointly announced to take the following measures in order to ensure the normal order of business operations and reduce the burden on enterprises:
Refund the unemployment insurance: in 2020, enterprises who meet the criteria will be refunded 50% of the total social insurance paid by such enterprises and their employees. Currently, the criteria are not clear and waiting for the further clarification by the authorities.
Delay the adjustment of calculation base for social insurance for 2020. Each year, the calculation base for social insurance will be adjusted around March based on the employee's average monthly salary of the last calendar year and the new calculation base will be implemented form April. From 2020, the starting date for adjustment will be delayed to July 1st, which means the enterprises and employees can still pay social insurance based on the 2019 calculation base for the salary from April 2020 to June 2020.
Extend the payment period for the social insurance. By prior filing at the authorities, enterprises and employees are allowed to pay the overdue social insurance within 3 months after the coronavirus outbreak ends, which will not impact the employees' personal payment records. No fine for delaying period will be penalized as well. Currently, the details on the filing procedure is not clear and is waiting for the authorities' further information.
[Updated February 11, 2020] According to internal notice from the authorities, we understand that the main industries which will benefit from this extension of payment period will be in priority related to tourism, F&B, hotel, aero business, transportation and logistic. The authorities will decide based on the documentation filed by applicants. Let us know if you need assistance for this filing.
Further implement the subsidies on training fees. During the shutdown due to the coronavirus outbreak, if enterprises organize online vocational trainings for their employees, enterprises can receive a subsidy equal to 95% actual training fees. According to our experience, only enterprises who file the application and are certified/approved by the authorities can obtain such subsidies. Whether more enterprises can benefit from the new measure needs to be clarified.
[Update February 8, 2020] On February 8, 2020, Shanghai Municipality has issued 28 measures to stabilize the economy and fight the economic consequences of the Coronavirus outbreak.
Helping companies that fight the epidemic.
The list of decisions to help the companies involved in the fight against Coronavirus epidemic includes the following measures:
Tax reductions and exemptions.
Financial and credit support from state-owned large commercial banks under the form of loans with preferential interest rates and issuance of bonds.
General measures to facilitate the financing through financial market.
Strengthen the insurance protection to favour the import of medical products. Insurance institutions are encouraged to provide free insurance coverage for some specific injuries and to protect the medical personnel.
Investment in production capacity and help for R&D in innovative products for epidemic prevention and control.
Fiscal reduction to boost the import of medical products as well as green channel for importation.
Measures to reduce the burden for all types of companies.
SMEs which are the tenants of the commercial property owned by the SOEs and engaged in production and business activities shall be exempted from the rent of February and March of 2020. State-owned companies are encouraged to give as much profit to SMEs under consultation. Commercial buildings, shopping malls, parks and other market operators are encouraged to reduce rent. Tax relief may be applied for the property tax and urban land use tax .
Deferred tax payment of 3 months subject to filing with the relevant authorities.
Tax benefits to companies whose real estate or land have been requisitioned by the Government.
Tax exemption for relevant donations, medical personnel and anti-epidemic workers.
Specific financial assistance for companies involved in the tourism industry.
Increase financial assistance to companies.
Encourage reduction of loan interests granted by banks and increase of credit loan for SMEs thought performance appraisal.
Increased financial support for industries affected by the epidemic including tourism, accommodation and catering, wholesale and retail, transportation, logistics and warehousing, cultural entertainment, exhibition.
Increase of the financing guarantee support.
Stabilization of employment. The Municipality confirms the measures previously issued.
Refund of 50% of the unemployment insurance premium of the previous year for employers who do not lay off employees and meet the requirements.
Postpone the adjustment of social security basis to July 1, 2020.
Extension of the period of social insurance contributions. If the entities and individuals fails to handle the contribution procedure or fails to pay the contribution on time, they are allowed to handle the social contribution after the epidemic is under control. If the contribution entities fails to pay the contribution on time, relevant repayment procedures can be completed within 3 months after the epidemic situation is resolved providing it such entity has filed with the competent authorities. Such delay will not cause late payment penalty and will not affect the employees' interests.
Up to 95% of the vocational training costs during the period of work interruption will be subsidized by additional funds for local education under conditions to be specified.
Subject to some conditions, the contribution rate of the employer's portion of the employee medical insurance will be temporarily reduced by 0.5% in 2020. [Updated on February 11, 2020] On February 11, a new measure was issued in Shanghai specifying that from February 2020 to December 2020, the rate of basic medical insurance (including maternity insurance) borne by enterprises will be reduced from 10.5% to 10%.
Subject to consultation between employers and employees, flexible employment policy shall be privileged to stabilize employment by adjustment of remuneration, rotation, flexible working hours, using annual rest days.
Resuming work
Companies are encouraged to implement preventive measures such as mask use, temperature control, disinfection liquid use, etc.
Companies shall resume operations in priority in areas where the virus outbreak is stable. Employers are encouraged to use online tools and platforms to recruit.
Online and digital business shall be encouraged. Online education, online shopping, online office, online services, digital entertainment, digital life, online diagnostics are expressly mentioned. Online mdedical consulting and prescribing, original new drugs, medical devices and more generally innovation shall be encouraged. Increase the innovation vouchers used for supporting the science and technology-orientated SMEs. The cap of such vouchers in 2020 will be increased from 300K to 500K RMB.
Support from telecom operators to provide free cloud video conferencing and other cloud based-office services may be available for SMEs severely affected by the crisis. Conditions still need to be provided.
Optimizing the commercial environment
Optimization of the services to be provided to enterprises by authorities. Specific channel may be supplied to SMEs to handle the import and export business.
Relaxation of some of the bad credit records; provision of force majeure certificate by the Council for the Promotion of the International Trade of Shanghai under certain conditions.
Establishing an emergency public legal service mechanism to provide guidance.
These rules shall come into effect since February 8, 2020 and shall be valid until 3 months after end of the outbreak of the COVID-19 outbreak unless otherwise provided. Shanghai Municipality will follow and implement the other relevant support policy applicable to the nationwide. The local district governments within Shanghai Municipality may issue implementation measures in details considering their practical situation.
[Updated February 12, 2020] Implementation Rules of Rent Reduction and Exemption dated February 11, 2020
In order to implement the 28 measures issued by Shanghai Municipality on February 8, 2020, Shanghai State-owned Assets Supervision and Administration Commission (the "Shanghai SASAC") issued the rules for the implementation of rent reduction and exemption for non-state owned small and medium-sized enterprises (the "SMEs") in Shanghai (the "Implementation Rules").
According to the Implementation Rules, SMEs do not need to pay the rent for February and March 2020 if such SMEs have signed lease agreements with state-owned enterprises (under controlled or supervision by Shanghai) (the "SOEs"). SMEs shall be defined in accordance with the Provisions on Criteria for Classifying Small and Medium-sized Enterprises (2011) as follows:
Industry
Criteria as SMEs
Agriculture, forestry, animal husbandry and fishery
Turnover: less than RMB 400,000,000

Manufacture
Turnover: less than RMB 100,000,000; Employees: less than 1,000 persons

Construction
Turnover: less than RMB 800,000,000; or Total Assets: RMB 800,000,000

Wholesale
Turnover: less than RMB 400,000,000; or Employees: less than 200 persons

Retail
Turnover: less than RMB 200,000,000; or Employees: less than 300 persons

Transportation
Turnover: less than RMB 300,000,000; or Employees: less than 1,000 persons

Warehousing
Turnover: less than RMB 300,000,000; or Employees: less than 200 persons

Post
Turnover: less than RMB 300,000,000; or Employees: less than 1,000 persons

Accommodation/Hotel
Turnover: less than RMB 100,000,000; or Employees: less than 300 persons

Catering
Turnover: less than RMB 100,000,000; or Employees: less than 300 persons

Information transmission
Turnover: less than RMB 1,000,000,000; or Employees: less than 2000 persons

Software and information technology
Turnover: less than RMB 100,000,000; or Employees: less than 300 persons

Real Estate Development and Operation
Turnover: less than RMB 2,000,000,000; or Total Assets: RMB 100,000,000

Property management
Turnover: less than RMB 50,000,000; or Employees: less than 1,000 persons

Leasing and business services
Total Assets: less than RMB 1,200,000,000; or Employees: less than 300 persons

Others
Employees: less than 300 persons

Note: the criteria of micro-enterprise, small-size enterprise and medium-size enterprise are further clarified under the Provisions, which is not listed here for the purpose of this newsletter.
If SMEs still face difficulty after the exemption of 2 months' rent, SOEs shall further formulate standards of deduction and exemption to help SMEs.
If SOEs have already issued some policies on the rent deduction, such policies shall not be lower than the standards in the Implementation Rules, otherwise, such polices shall be updated.
If it is a sub-lease, the above policy shall be enjoyed by the actual tenant.
The Implementation Rules also lists the procedures to be implemented by SOEs and require SOEs to report their detailed policies and plans to Shanghai SASAC before February 20, 2020. It is also stipulated that SOEs shall notify SMEs the policy through various means, such as by announcement, phone, e-mail and Internet, informing the details (scope, criteria, procedure, contact, acceptance time, necessary supporting documents, etc).
——————-
Appendix 3 – Beijing Municipality – updated since February 6, 2020
[Update February 6, 2020] On February 3, 2020, Beijing government announced to take the following measures to protect medium and small enterprises from the loss caused by COVID-19.
Suspend several administrative charges: enterprises with large impacts will be suspended from paying special equipment inspection fees, sewage treatment fees and road occupation fees.
Deduct/exempt enterprises from rent:
| | | | |
| --- | --- | --- | --- |
| Enterprises | Landlord | Purpose for Renting | Rent |
| Small and medium size | State/Beijing/district-owned companies | Production and operation activities | Exemption of rent in February |
| Small and medium size | State/Beijing/district-owned companies | Office | Reduction of rent in February to 50% |
| Small and medium size | Private companies | Other operational purposes | Encourage reduction, subject to mutual agreements |
Delay the tax payment for enterprises in difficulties caused by COVID-19: the delay period shall be no longer than 3 months and the criteria for "difficulties" needs further clarifications. Based on our experience, for enterprises suffering from difficulties and willing to file for tax delay, they shall firstly consult with their local tax bureau and/or their specific tax administrator for information.
Subsidize R&D costs for enterprises: science and technology enterprises in Zhongguancun National Independent Innovation Demonstration Zone will receive R&D subsidies no more than RMB 200,000 based on their situations.
Mitigate the impact caused by COVID-19: Beijing government is going to issue various subsidies to enterprises in industries that suffer significant loss from the COVID-19. For instance, reduce the operational cost for taxi drivers that continue carrying on services during this period, provide appropriate subsidies to water/electricity expenses for ski/skating places, return temporally the guarantee payment of travel agencies and etc. Further industrial measures are to be expected and enterprises shall closely monitor those.
Provide financial support: measures include but not limited to a) enterprises in extreme difficulties may postpone repayment of debts, subject to negotiations with bank and other financial institutions; b) decrease guarantee fees for enterprise in difficulties or virus prevention related enterprises. Enterprises may talk to their banks for further information.
Implement employment subsidies:
for insured companies that have been affected by COVID-19 , encountered temporary production and operation difficulties yet insisted on not layoffs or fewer layoffs, their unemployment insurance premium can be refunded in accordance with the local monthly per capita unemployment insurance standard and number of employees in the previous 6 months;
enterprises that increase number of employees may receive relevant subsidies, with maximum of 50% of the social insurance premium payable for 3 months;
if enterprises above implement professional trainings for employees, they may be granted with a RMB 1,000/person subsidy;
if enterprises hire registered unemployed persons or persons with difficulties in urban rural employment, sign labor contract with them for more than one year, and pay the salary of no less than 1.2 the municipal minimum wage (RMB 2,120), they can apply for social insurance and position subsidies to Beijing Municipal Human Resource and Labor Compliance Bureau.
Simplification of procedures: faster customs channels, simplified administrative filings at SAFE, etc.
Hotline consulting: use of hotline 12345 to provide enterprises with legal services such as consulting, agency, etc.
——————-
Appendix 4 – list of criminal risks related to COVID-19
Activities Description
Crime
Infected patients, suspected and convicted patients refusing to be quarantined or escaping the quarantine and entering public areas or taking public transportation.
"Endangering Public Safety In a Dangerous Manner" Art. 114, Art.115(1) of the PRC Criminal Law
Refusing to conduct the preventive measures issued by authorities, causing or in severe danger of causing the spread of COVID-19 Companies and individuals are targeted.
"Crimes Against the Prevention and Control of Infectious Diseases" Art. 330 of the PRC Criminal Law.
NOTE: Companies conducting this crime will be punished with fines; and person in direct charge of it may be punished with sentence up to 7 years.
NOTE: According to PRC Law on Prevention and Treatment of Infectious Diseases [Art.31], companies also have the obligation to timely report to the nearest disease preventing organizations or medical organizations (in this case, first reaction shall be to call hotline 12345 and may contact the local Human Resources and Social Security Bureau for record) of any convicted/suspected patients when it discovers.
Preventing public officials (larger scope – including people designated by State to conduct duties on preventing COVID-19) in violent or threatening way from conducting measures such as prevention, inspection, mandatory quarantine or quarantined treatment and etc.
"Offense Against Official Duties" Art.177(1), (3) of the PRC Criminal Law
During COVID-19, causing injuries to medical personnel (above minor injuries), or performing acts such as tearing protective equipment, spitting on medical personnel
"Intentional Injury" Art. 234 of the PRC Criminal Law
Illegally restricting personal freedom of medical personnel by not allowing them to leave the workplace, etc.
"Illegal Detention" Art. 238 of the PRC Criminal Law
Making and selling fake medical prevention products or without proper license or advertising medicals exaggerating the functions.
Crimes related to Making, Selling, Advertising Fake Products Art. 141, Art.142, Art.145, Art.225, Art.266, Art. 268 of the PRC Criminal Law
Making and spreading rumors or untruthful information. Among them, internet operators failing to perform its information security management obligations and refused to correct after being requested by supervisory authorities, and causing the untruthful information of COVID-19 spread. Companies and individuals are targeted. Individual acts that cause not severe harm to the society shall not be considered as crime.
Crimes related to Rumor Creation and Spreading "Refusal to Perform Information Security Management Obligations" Art. 291(1), (2), Art. 293(1),(4), Art. 103(2), Art. 105 of the PRC Criminal Law Art. 286(1) targets companies and individuals
Abusing its positions in the COVID -19 prevention work and causing damage to public interest
Crimes related to Crimes of Dereliction of Duty Art. 397, Art. 409, Art. 331, Art. 382 etc of the PRC Criminal Law
Damaging public transportation, such as tracks, bridges, tunnels, airports and etc, causing above public transportation with danger to collapse or being destroyed Note: regional radical acts to prevent spread of COVID-19 such as blocking the road without permission, causing no severe consequences, normally will not be convicted as crime, subject to administrative punishment.
"Damaging Transportation Facilities" Art. 117, Art. 119 of the PRC Criminal Law
Illegal hunting, killing, purchasing, transporting, selling wild animals or using illegal tools to hunt wild animals. Selling wild animals or products made of wild animals without relevant license
Crimes related to Wild Animals "Illegal Conduct of Business" Art. 341(1), (2) of the PRC Criminal Law Art. 225 targets companies and individuals
Other acts that violating the prevention of COVID-19 shall receive administrative punishment accordingly. Companies and individuals are targeted.
Not a Crime