Since January 1, 2020, the Foreign Investment Law (the "FIL") has repealed the relevant laws on Wholly Foreign-Owned Enterprise(WFOE), Equity Joint Venture(EJV) and Cooperative Joint Venture(CJV), and FIEs' organizational form, governing structure and business operation shall subject to the PRC Company Law, streamlining with the domestic companies. However, FIL leaves a 5-year interim period for existing WFOEs, EJVs and CJVs to complete the transformation from original corporate governance to the governance applicable to domestic companies.
The FIL's impacts on the corporate governance structures to WFOEs should be slight as an implementation opinion issued by four ministerial authorities in 2006 provides that the corporate governance of WFOEs shall comply with the PRC Company Law.
In contrast, the FIL generates substantial impacts on Joint Ventures (both EJV and CJV) in corporate governance since the rules under JV laws are quite different from those set out under the PRC Company Law.
The table below reflecting the main differences in the organizational form and corporate structure under the JV (EJV & CJV) laws and the PRC Company Law: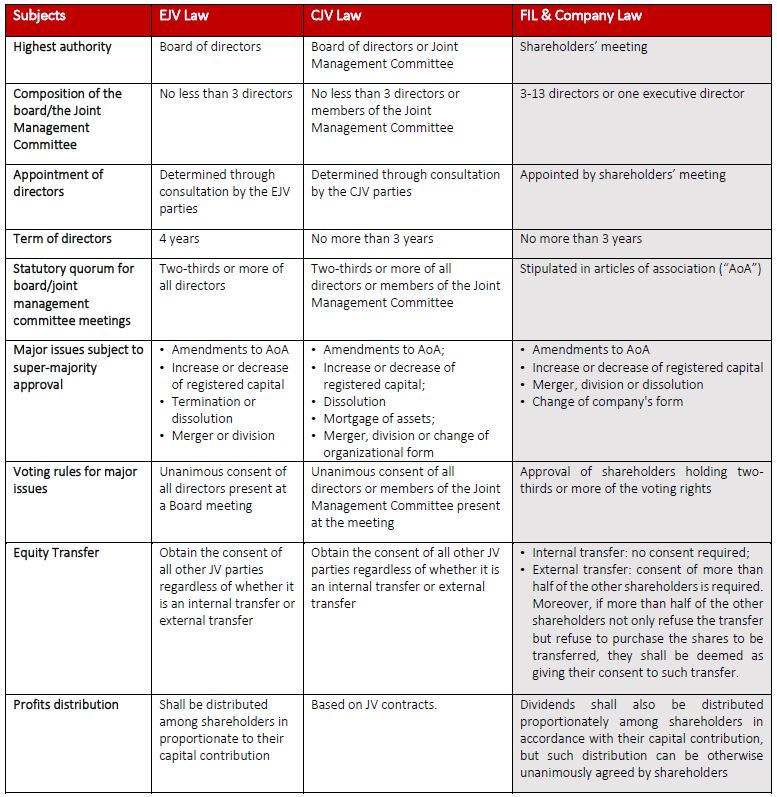 Characteristics
Wholly or partially foreign ownership: foreign individuals, enterprises or other organizations may establish foreign-invested limited liability companies alone or together with other investors. Capital coming from Hong Kong, Macau, and Taiwan is considered as foreign capital.
Limited liability: company's liability limited to its entire assets; shareholders' liability limited to its subscribed capital contribution/subscribed shares (as the case may be).
Applies to PRC Company Law unless otherwise provided in FIL and relevant laws. Since the enforcement of FIL, foreign-invested companies, like domestic companies, applies to the PRC company law. (See the table above for details)
Activity
A Foreign-Invested Limited Liability Company may only engage in the activities listed in its business scope, as approved by the Chinese authorities. It is very important that the business scope selected corresponds to the activities carried out by the Foreign-Invested Limited Liability Company. Activities conducted beyond the business scope may lead to penalties and confiscation of the illegal profit.
Although Foreign-Invested Limited Liability Company can engage in a wide range of sectors, its activities cannot belong to the Negative List, which is updated annually by the Chinese authorities. Meanwhile, the Negative List for Free Trade Zones may be more opened to foreign investment than the Negative List nationwide.
Advantages & Disadvantages
Whether to invest alone by foreign investors, or jointly invest with a domestic partner, maybe one of the most common questions raised by potential investors. Here we summaries the main advantages & disadvantages for investing alone by foreign investors (as previously known as WFOE), so that the corresponding disadvantages & advantage of non-WFOE-type Foreign-Invested Limited Liability Company may be clear as well.
Advantages of WFOEs:
There is no need for long negotiations with a domestic partner.
The establishment process of a WFOE is formal, simple, and streamlined, and takes around 30 days from the date of filing all the necessary documentation.
Complete management control by foreign investors. There is no need to take into consideration the interests, needs, and schedule of a domestic partner. Therefore, this structure is especially recommended for foreign investors who are already familiar with doing business in China.
It is easier to protect intellectual property, technology, and know-how.
Disadvantages of WFOEs:
The foreign investors will not benefit from the assistance of local partners for obtaining government approvals, premises, and land.
It may take more time for inexperienced foreign investors to access the market in China. There will be no domestic partner to provide for sales through existing distribution channels and local connections.
To know more, download our legal handbook related to foreign investment in China…