Handbook
Intellectual Property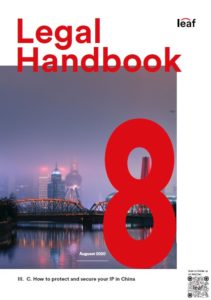 How to protect and secure your investment in China?  
Every company contemplating doing business in China shall think about its intellectual property protection before starting any step.
The intellectual property rights legal regime in China involves trademark, copyright, patent, trade secrets, domain names, know-how, etc.  which are valuable assets for companies. Based on our experience, main concerns of foreign invested companies setting up in China are related to trademarks, copyrights, domain names and technology transfers, this handbook will provide you with an overview on these questions.
If you want to know more, you can download our handbook explaining the various legal options that China environment offers to you.