Tiamat and Zenergy, two prominent players in the energy industry, recently announced a strategic cooperation framework agreement. The agreement, signed during the inauguration day of Zenergy's state-of-the-art 25GWh battery manufacturing plant, paves the way for groundbreaking advancements in polyanion Sodium-ion battery technology.
Leaf's Partner Charlotte Mantoux and Associates Jasmine Zhang and Liu Tong have assisted their client and the VVR International team in the complex negotiations that culminated in this landmark agreement, which covers crucial aspects such as technology development, market expansion, and early volumes subcontracting. The firm's expertise in corporate law and cross-border transactions proved instrumental in facilitating a mutually beneficial collaboration between Tiamat and Zenergy.
The agreement promises to revolutionize the energy landscape by leveraging Zenergy's unparalleled competence and know-how in manufacturing precision, quality improvement, and scaling-up cell formats. Tiamat, a frontrunner in the development of next-generation battery technology, will benefit significantly from Zenergy's expertise, ensuring the delivery of superior product quality and enhanced performance to meet the evolving demands of Tiamat's esteemed customer base.
With its extensive experience and in-depth understanding of the energy sector, Leaf recognized the immense potential of the strategic partnership between Tiamat and Zenergy. By bringing together their complementary strengths, the collaboration is set to drive breakthrough innovations and advancements in the field of next-generation battery technology.
"We are thrilled to have been part, together with VVR International, of this groundbreaking agreement between Tiamat and Zenergy," said Paris-based Partner Charlotte Mantoux. "This collaboration represents a remarkable milestone in the energy industry and has the potential to reshape the way we store and utilize energy. Our team at Leaf is proud to have contributed to this visionary partnership, and we look forward to witnessing the transformative impact it will have on the market."
Leaf's commitment to delivering legal counsel and fostering meaningful partnerships has positioned our firm as a trusted cross-border advisor in the global energy sector.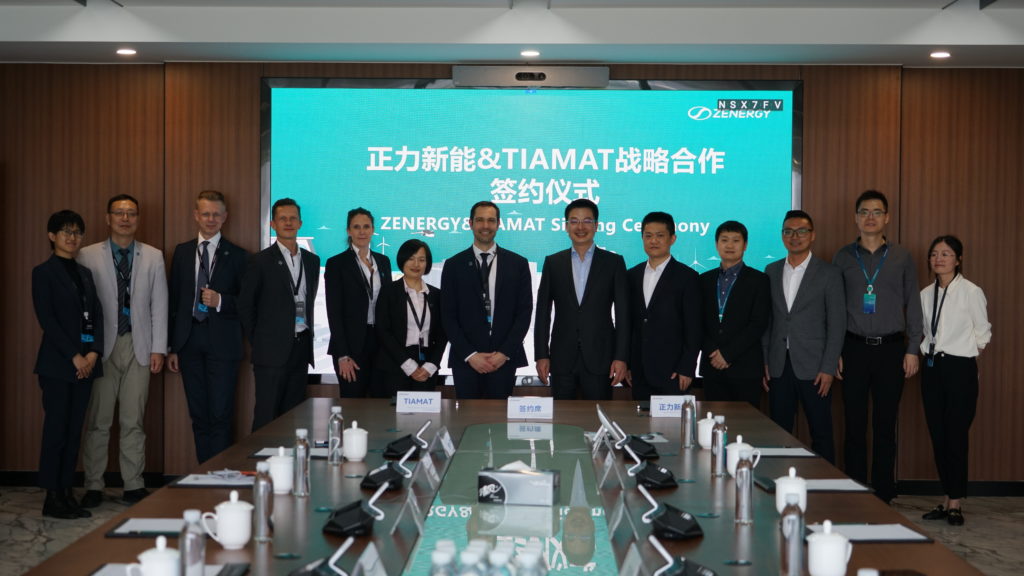 About Leaf
Leaf is a multi-awarded corporate law firm specialized in operations in Asia.
Leaf is advising international corporations and mid-cap enterprises to safely complete their cross-border operations and their joint-ventures with state-owned and private partners. We also assist our clients in their strategic operations across Asia or to structure investments in Asian-based start-ups.
The team is composed of international corporate lawyers based in China and in France.
For further information
Charlotte Mantoux: c.mantoux@leaf-legal.com
Website: www.leaf-legal.com
About Tiamat
TIAMAT Energy is a start-up that designs, develops and produces innovative solutions for energy storage applications. The Na-ion technology used in Tiamat cells presents outstanding properties for power applications, fast charging and enhanced cycle life. Tiamat aims to further develop its technology in the years to come and to qualify its prototypes in collaboration with many industrial partners and end users.
For more information: http://www.tiamat-energy.com/
About Zenergy
Zenergy is a high-tech enterprise focusing on the R&D, production and sales of lithium-ion power battery and energy storage battery, meanwhile, it also has a comprehensive development capability in the aspects of cell, module, BMS and pack. Zenergy is committed to providing accurate and efficient solutions for global lithium-ion power battery and energy storage battery fields through continuous improvement of battery technology.
For more information: https://www.zenergy.cn/index.html
About VVR International
VVR International is a service provider dedicated to industries already working or willing to work directly with partners in China. With 80 employees, VVR International provides support to your business, by assisting their clients in the management of their projects in China. Its strong growth since 1999 makes VVR International a reference in the fields of securing industrial relationships in China and more globally in emerging countries. VVR International provides training in "purchasing and quality control in China" as well as "commercialization and industrialization in China" as subcontractor of major training companies as well as major groups.
For more information: www.vvrinternational.com/