Establishment of both Hainan FTP and Lingang Special Area
It are important strategic deployments for China's further opening-up made by the Central Committee, which has brought and will continue to bring investing opportunities along with special preferential treatments for foreign investors for their business establishment and expansion. Important differences remain in main developing strategy, key industries and supporting policies in Lingang Special Area and Hainan FTP.

Lingang or Hainan, which one is best for you?
Leaf has been paying close attention to the development of Lingang Special Area and Hainan FTP. We work closely with the Administrative Committee of Lingang Special Area in order to offer in-depth insight in relevant professional fields. Based on discussions with our contacts in these 2 areas, we have summarized all differences. Leaf has been paying close attention to the development of Lingang Special Area and Hainan FTP.
The main key differences between Hainan FTP and Lingang Special Area:
1/ Strategic target and development goals: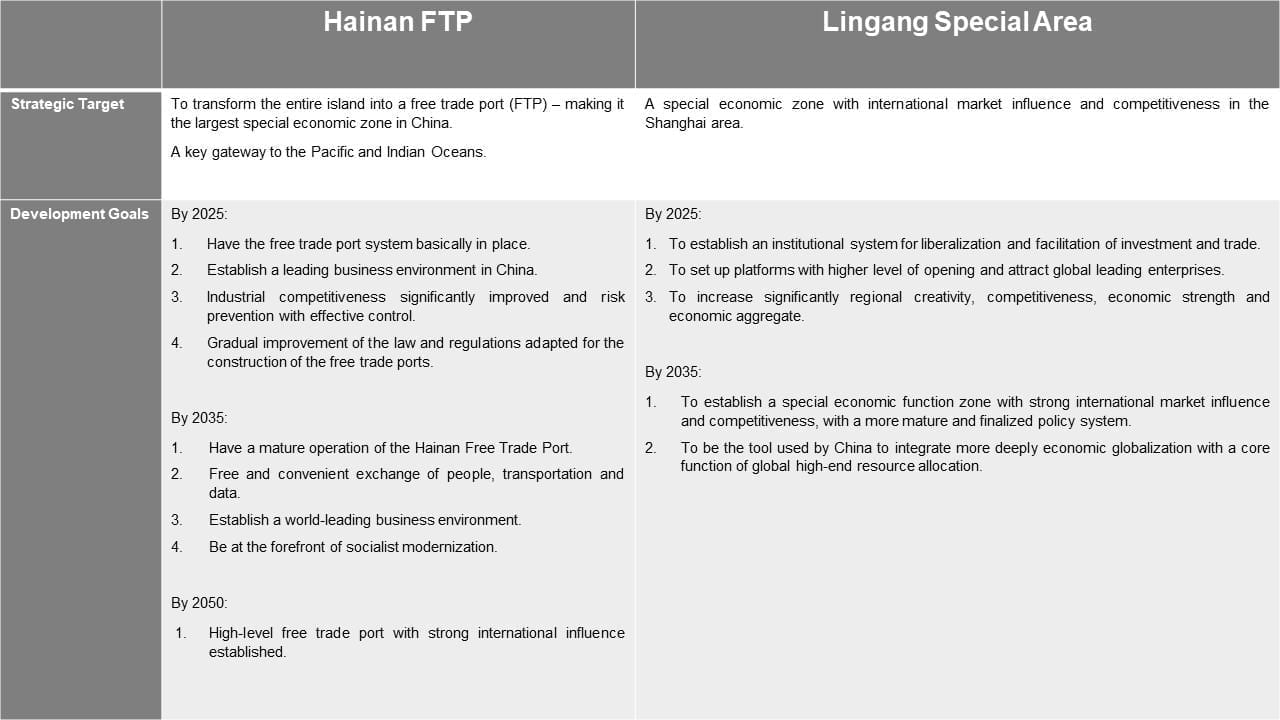 2/ Geographical area, key industries, tax preferential polices and custom policies: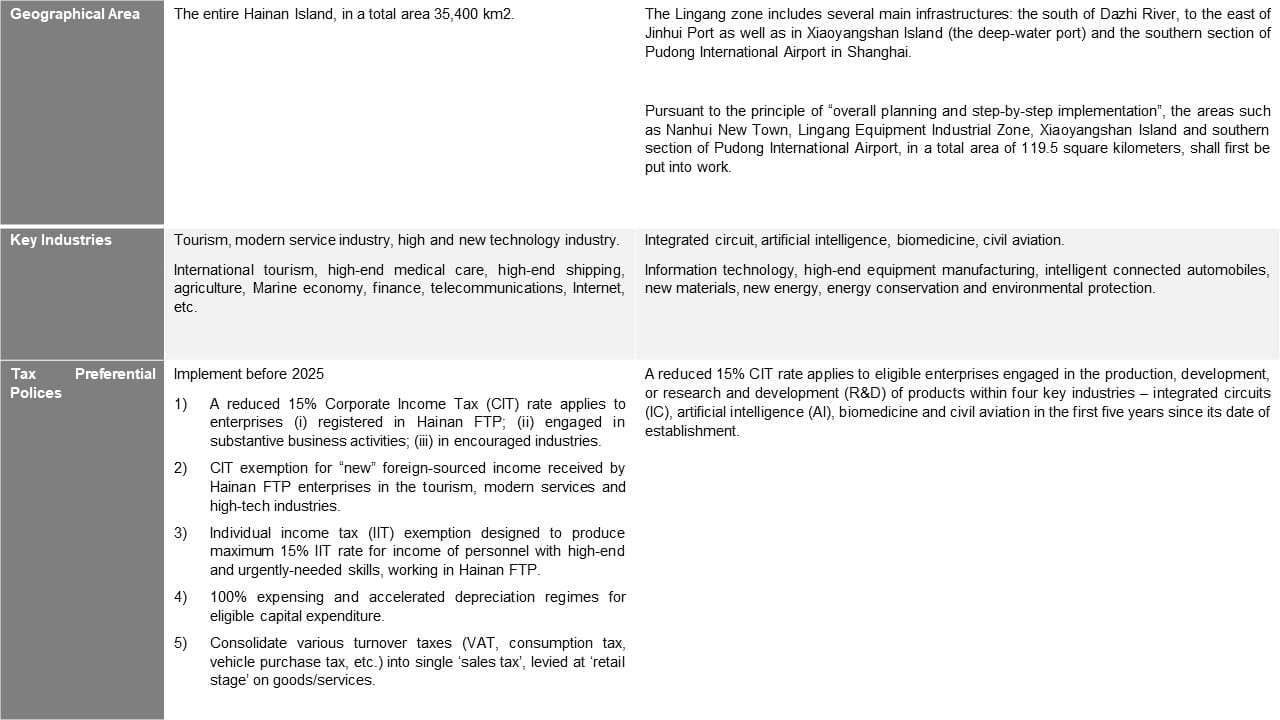 3/ Policies on cross-border capital flows, investment & financing and other corporate advantages: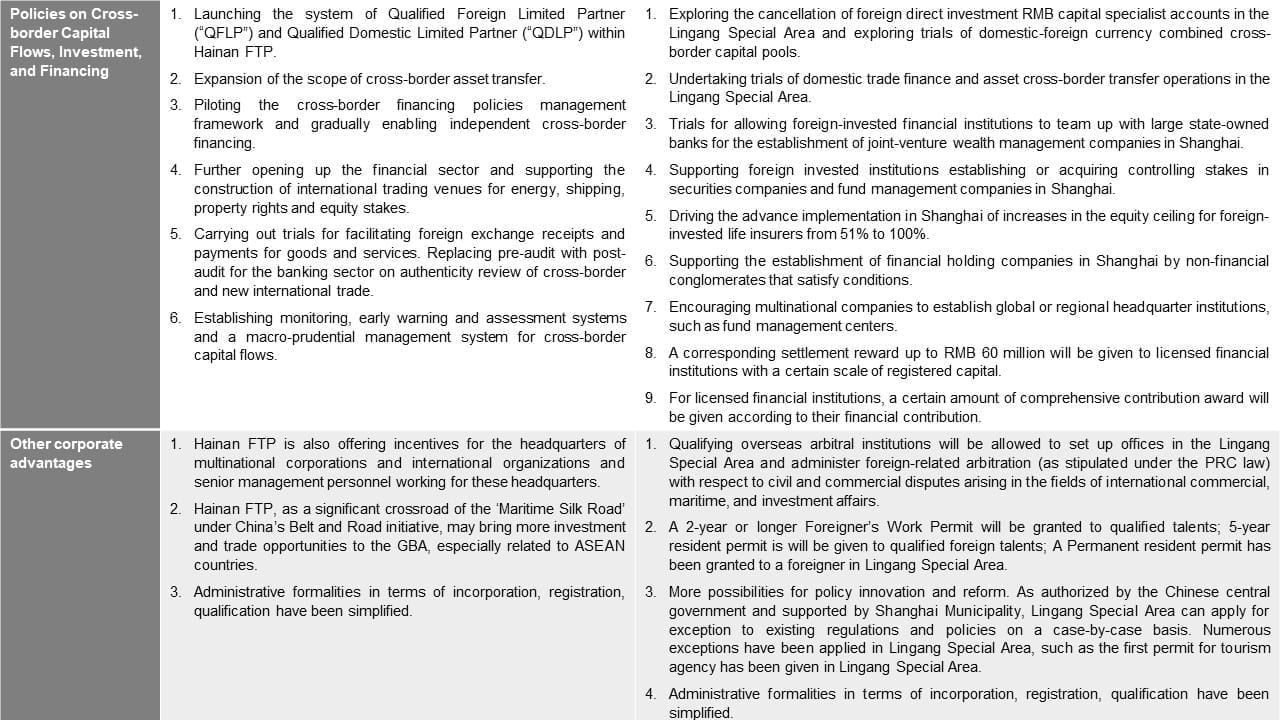 Both Hainan FTP and Lingang New Area are offering opportunities across multiple industries and the services sector – high-tech, financial, construction, logistics, etc., which are great incentives for foreign enterprises to consider setting up potential projects.
Lingang is offering investors with a set of financing preferential policies/exceptions with numerous technical supports in one of the biggest industrial area.
Hainan FTP, as China's largest and only free trade port, has provided innovative favorable policies with regard to taxes, with the biggest feature as "zero tariff".
Leaf team has assisted numerous foreign business leaders to define their business plan and strategic positioning, including the corporate structure, financial model, capital capacity and financing needs and any practical difficulties of setting up you may foresee. Then our team of Chinese and foreign lawyers is negotiating the best conditions with the development zones in China, including land-use right, access to facilities, tax incentives and other preferential policies that may be obtained from local authorities.
---
[1] "First-line": is established between Hainan FTP and other countries (regions) outside China's borders. Except for prohibited and restricted imports and exports, goods and articles can be freely imported and exported; "Second line" is a new management model established between the Hainan FTP and Mainland China. Goods entering the Mainland China from the FTP are subject to customs duties and import-related taxes in principle. Those who meet the conditions can enjoy import tax exemption preferential policies.